Congratulations to Dr Joseph Kakisingi for his recent recognition as a "Change Maker"

SPECIAL MENTION: OPEN
De-Joseph Kakisingi, Sante et Developpement "SAD"
---
You have received a Special Mention in the category of Open. Can you tell us more about your work in this area?
In March 2012, South Kivu in the Democratic Republic of the Congo experienced a resurgence of violence and wars. Armed groups systematically raped women, people fled their villages and makeshift camps for displaced people were set up everywhere. Among the displaced were many survivors of sexual violence.
St Vincent Hospital does not have the funds to provide medical and surgical treatment for survivors of sexual violence, or the resources to provide the psychological support or social reintegration that they need. But I couldn't abandon these women to their plight.
I started to operate on these women for free, but the problem of psycho-social care remained. In March 2013 I decided to go and treat women in the remote villages where they had moved. In two weeks, I walked through seven villages and consulted over 650 women. During this period, I realised the extent of poverty and rape in our villages and how much female victims were left to fend for themselves. This situation upset me so much that I decided to do something.
This is how I came up with the idea of ​​creating SAD, to help these women but also to help reduce misery and poverty in remote and abandoned communities. Very quickly some of the young people I mentor joined in the idea, and other friends and colleagues. In April 2014 was born SAD. We set up a transit camp with teams for reception and social and psychological assistance as well as medical and surgical care. Then we organised a training unit for different trades, to prepare women for social reintegration in their villages of origin.
What challenges have you faced? Have there been any solutions that worked particularly well?
The major challenge we had to face was the lack of financial means. This has remained unresolved until today.
Where do you see your work going next?
Our approach is to work together with communities to find solutions locally for endogenous development and for preparedness for possible emergencies. Our work will continue to expand in remote and neglected areas to contribute to food security, the protection and education of children and access to medical care for all – with particular interest in the health of women, mothers and children.
We want to continue social rehabilitation and economic recovery through the empowerment of rural women and community-based agro-pastoral revival. We will continue to support the community in the prevention of, and response to, epidemics and in education for the adoption of positive behaviours.
Why is this work so important to you?
The work I do with SAD allows me to feel useful to the community and this gives meaning to my life. It is important that we come together to say: "Enough is enough: it is time to put peace at the centre of everything, to work for the well-being of all. It is time to work for the dignity of women, the empowerment of communities, a better world of human solidarity, where the dignity and rights of individuals are respected."
What changes to the humanitarian sector are needed in the next 10 years? What are the main obstacles to achieving this?
To be effective, the humanitarian response must be localised – not in a theoretical way, as it is at the moment, but in a practical way. Local NGOs should play the most important role in emergency response by having quick access to humanitarian funding. But to get there, we must first break down numerous obstacles:  the weakness of our government, negative lobbying about LNGOs, too many intermediaries between donors and NGOs,  unequal access to finance, and eligibility criteria for funding that usually exclude LNGOs.
2020 has presented multiple challenges globally. What are the key lessons for the humanitarian sector this year?
The first lesson was that there may be circumstances in which INGOs with foreign actors are unable to operate. The second, related, lesson was that the humanitarian system is not a system because it is not complementary. This was seen during COVID-19 when the international NGOs and UN associations stopped activities and refused to transfer them to the LNGOs, despite the formal request of the LNGOs concerned not to see humanitarian action interrupted.
Another lesson learned is the inflexibility of current funding mechanisms, even if this means people die who could have been saved. Rather than allowing LNGOs to fight COVID-19, the funding allocation mechanism was stopped until the INGOs resumed their activities – when the critical phase of the pandemic had already passed.
The most important lesson remains the urgent need for the localisation of aid, to allow decisions to be made locally by those on the ground. For example, we set up our own project to fight against COVID-19 and cut the patient-caregiver chain of transmission in Bukavu.
Why do you think that in an era when we have more access and communications, crises have increased in numbers and gravity?
Industrial and technological evolution has caused disturbances of the ecosystem, including climate change. Yet the world today is more concerned with financial gain than with reducing the global threats to humanity, especially for the lower classes and the poor.
Repeated wars create poverty. Inequalities have become shameful. A small group of people has monopolised almost all the resources. Technology has eliminated jobs, and populations are thrown into poverty. In their search for survival, the victims face resistance either from armed conflicts or from natural disasters.
Why is important to transform the sector and if there is one thing that you would encourage your fellow humanitarians to do, what would it be?
The system has completely failed. The humanitarian approach for 50 years has not borne good fruit, but is still resistant to change.
I would encourage my humanitarian colleagues, in their well-paid jobs, to ask themselves: Am I in the humanitarian world for myself or for the community?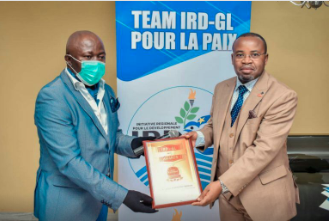 Dr Joseph is the founder and director of St Vincents Medical Center in Bukavu. Project Congo has been working with St Vincent since 2012. Dr Joseph is a tireless crusader for public health and social justice. He built St Vincent up from a failing local clinic to a thriving district hospital that provides high quality care to the poor. Under his direction the center has collaborated with Colibri an Italian NGO and Project Congo, to build a modern maternity and neonatal facility, laboratory, X-ray, and pharmacy with drug compounding capabilities. He has worked with both organizations to further medical training both on site and in Italy. He has pioneered telemedicine in the region to access specialists and online consultations. To improve access to care, Dr Joseph has built neighborhood clinic, pharmacies and senior citizen centers. He has also worked on local food distribution and agricultural projects to address nutritional needs. Dr Jospeh has fought for the dignity and health of women. Providing life saving obstetric and gynecology care as well as compassionate are for victims of sexual violence. St Vincents is one of the few facilities in the area that does perineal fistula and gynecological repairs. Dr Joseph also founded SAD, an organization that shelters victims of sexual violence and provides vocational training. In addition Dr Jospeh has been instrumental in launching various public health campaigns and initiatives. Since the onset of the Covid Pandemic he and his musical group "Hope and Peace" have been producing public service informational podcasts, videos and radio programs to promote social distancing and mask usage. He has formed women's cooperatives to make and distribute masks. His efforts won him the distinction of "Local Hero" from international aid organizations. Dr Joseph is an inspiration to all of us! We look forward to continuing our work with him to bring health and hope to the Congo
6/18/2019 St Vincent's Medical Center Adds New State of the Art Neonatal Facility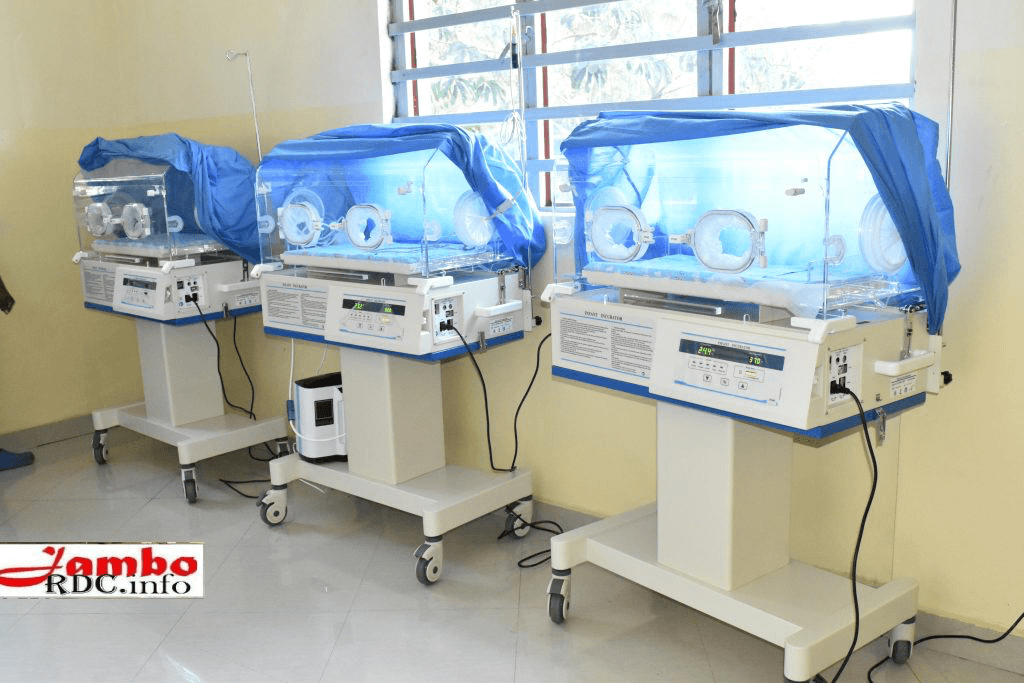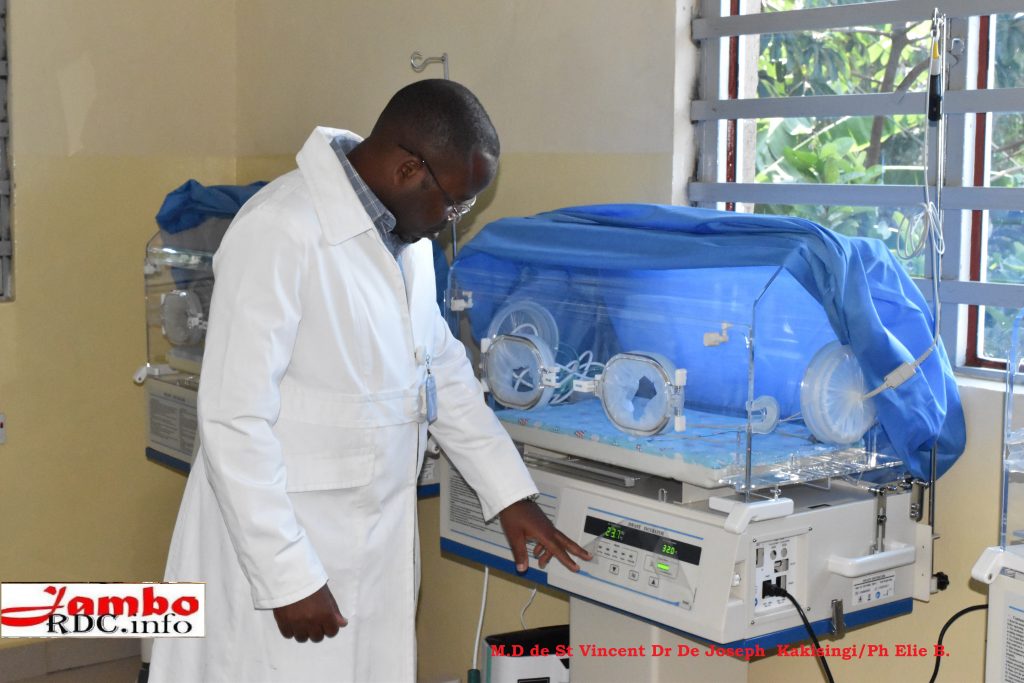 This project will provide state of the art life saving care to premature and distressed babies born at St Vincent. The facility will also care for critically ill pediatric patients. The project was aided by a generous grant from Rotary International which allowed the purchase of brand new incubators and equipment. The new facility will go a long way to saving young lives in this impoverished patient population.